Rockstars: With The Passion Of An Entrepreneur And The Strength Of Rock
On April 29th, InnovaRock was celebrated in Miami and brought together the main players of entrepreneurship and innovation ecosystem of Florida. More than 100 entrepreneurs, investors and enthusiastic people watched and listened the elevator speech of nine startups representing six Latin American countries. In the event, 10 global organizations operating in Miami such as The Venture City, Cambridge Innovation Center and Radical Partners, among others, participated in this novelty event.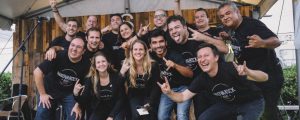 The jury of the competition included the Managing Director of Miami Angels, Rebeca Danta; the executive director of Parallel 18, Sebastián Vidal; the general manager of CIC Miami, Natalia Martínez; and the innovation consultant of the Inter-American Development Bank, Elías Tefarikis.
"This event in Miami marked the beginning of our internationalization process, which will be followed by other countries in the region and Europe, with the aim of contributing with our methodology to those public and private actors interested in bridging the gap that separates the ecosystem of innovation with citizens, "says Leo Meyer, co-founder of InnovaRock.
More information: http://www.innovarock.cl