Diversity and Winter Sports: A look at Lake Tahoe

Lake Tahoe (California & Nevada) draws visitors from diverse backgrounds.  A look at this areas Winter Sports Industry efforts to reach multicultural and diverse visitors. A Tahoe Report by Madison Schultz
Living in modern society, the action sports industry is easily immersive, especially when living in California. There's a seasonal axis that hosts a variety of sports that are available at any given time, and it's incredibly easy to dive headfirst into a new, exciting activity. With the winter season quickly approaching, the underlying question is this: how culturally diverse is the action sport industry?
According the 2019-2020 annual participation report released by Snowsports Industries America, the demographics behind age, education, income, and even gender slightly fluctuate – however, there's a significant difference in the ethnicities report. According to this report, during the 2019-2020 snow season, 67.5% of the population who participated are white; leaving only 32.5% of other ethnicities to compose the full report. So, how do we increase ethnic diversity in winter sports?
Increasing diversity in the winter sports industry is a decades old problem that many top executives, resorts, and even consumers have tried to solve in recent years. Initiatives such as bringing other industries into ski resorts to create a better appeal and even creating diversity amongst all ski resort employees' roles have been proactive ideas that have been suggested.
Diversity in Lake Tahoe visitation is important!
In an interview with Outside Magazine's Business Journal, Olivia Rowan, Associate Publisher for Ski Area Management magazine, and a group of marketing participants came up with several key points to increase diversity in winter action sports:
The commitment to increasing diversity in the sport must come from top management.
Diversity issues must be addressed at all levels of the company.
Achieving change requires a long-term commitment; this problem will not be fixed overnight.
The industry should welcome input from other categories of the service industry and learn from their successes.
The industry needs to explore ways to develop a love for the mountains among cultural groups that have not participated in mountain sports to grow a multicultural customer and employee base.
Although these points take a progressive approach to such a hefty problem, it's important to note that these points were summarized over 15 years ago, back in 2005; and current statistics behind ethnic participation continue to remain primarily white.
According to a report conducted by the Lake Tahoe Visitors Authority, visitors across California and Northern Nevada make up the tourist market for Lake Tahoe. Below is the graph:
| | | |
| --- | --- | --- |
| Market | Miles | % of Total Visitors |
| Reno/Sparks/Carson City | <75 | 6% |
| Sacramento | <100 | 10% |
| Bay Area | 100-200 | 20% |
| Central Valley | 201-449 | 4% |
| Los Angeles | 450-499 | 6% |
| Las Vegas | 450-499 | 2% |
| Orange County/San Diego | 530 | 3% |
Data Chart courtesy of Lake Tahoe Visitors Authority Report, 2016
After looking at the report, it shows visitors that frequent Lake Tahoe from all parts of both California and Nevada – primarily California. In such an ethnically diverse state, the Basin's out of town visitors are coming from various regions that are home to a variety of ethnicities. Although many tourists from various ethnic backgrounds visit Lake Tahoe, only a very small percentage are hitting the slopes to ski or snowboard. However, that doesn't necessarily mean that Lake Tahoe doesn't host diverse tourism.
With both gaming and snow activities holding Tahoe's winter tourism numbers consistent, it's important to analyze that although the Tahoe Basin is home to many ski resorts, there's much more to offer than just skiing and snowboarding. In an article published by the Tahoe Tribune, Carol Chaplin, President and CEO of the Lake Tahoe Visitors Authority stated that, "There is a new visitor [to Lake Tahoe] who isn't necessarily the hardcore skier. I see families in the Heavenly Village who are there to shop or enjoy a gondola ride, not ski."
In fact, the towns that surround the Tahoe Basin have somewhat shifted focus to offer more inclusiveness to those that aren't necessarily the avid skier, but also want to enjoy the mountains. All around Lake Tahoe, new businesses are blooming that offer unique, interactive fun outside of the traditional skiing and snowboarding box. Businesses such as indoor mini golf, pottery and candle making, brewery tours, food tastings, art galleries, and even 'paint and sips' are making strides to offer new fun for those that don't want to spend their winter vacation on the mountain. These progressive business efforts offer something for everyone, and really bring a "fun for all" mentality – ultimately making it less intimidating for those that don't know how to ski or snowboard and opening an entirely new demographic of tourists enjoy what Lake Tahoe has to offer, just differently.
Of course, there are tourists that still want to dip in and try to explore the snow while they're on their winter vacation but might be hesitant to try traditional snowboarding or skiing. There's a growing number of businesses in the Basin that are also offering less physical impact snow sports, such as snowshoeing, cross-country skiing, sledding, and even snowmobiling – making the idea of getting on the mountain a little less intimidating, and catering to all skillsets.
While ski and snow sports are still primarily dominated by Caucasians, there's a new element for inclusiveness in the industry that's rooting back towards the fundamentals and ideals that more modern generations grow up with. Millennials are currently known to be the most diverse and largest generation in American history; and with the consideration that the current, middle-aged Millennial is now in their late 20's-early/mid 30's, slowly but surely, older generations are aging out of the sport. As time passes generationally, the sport is gradually becoming more diverse.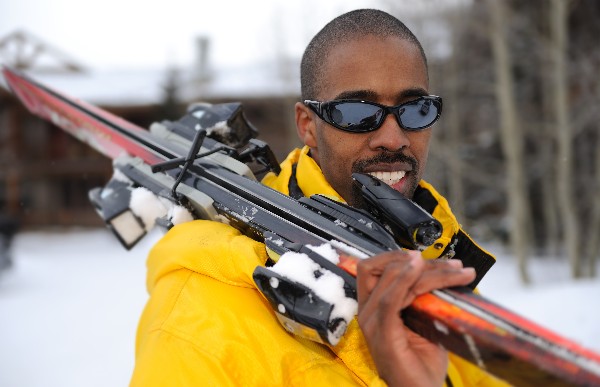 What are Tahoe Resort Towns doing to market to diverse visitors
Resort towns around the Basin are continuously pushing progressive marketing efforts to lure in the new age of skiers and snowboarders by hosting events that are attuned to this younger generation, such as SnowGlobe Music Festival in South Lake Tahoe and even Winter Wondergrass in Olympic Valley, Calif. These events provide an interactive incentive for the younger generation to frequent Lake Tahoe more, and maybe while they're here on vacation, they'll spend a day on the mountain trying to learn how to ski or snowboard.
There's also an array of nonprofit organizations in Lake Tahoe that are pushing towards inclusiveness in the ski and snow industry in totality by getting disabled individuals on the mountain. For example, Achieve Tahoe is a local nonprofit in North Lake Tahoe, and they offer accompanied winter sports for individuals that are paralyzed, blind, deaf, and for those that have mental debilitations. These comprehensive companies heavily promote and provide for everyone who wants to be involved, creating equality in such a dominated sport.
These ongoing marketing tactics that appeal to younger generations are gradually working to provide further inclusiveness in the resort towns around the Basin, to create a more user-friendly model, that Lake Tahoe isn't just home to skiing and riding in California – but also should be considered as a "must go" destination for anyone.
Although these tactics are taking progressive steps towards true ethnic diversity in winter sports, there are still long strides that need to be taken to consider Lake Tahoe winter sports as truly diverse. As noted in the marketing meeting with Ski Area Management magazine, "the commitment to increasing diversity in the snow industry must come from top management and be a universal decision amongst all big-top executives."
For more information on the diversity statistics in this article, visit:
https://ltva.org/wp-content/uploads/2016/11/161104-Lake-Tahoe-Visitors-Authority-2016_5.0.final_.pdf
For more information on other inclusive winter activities in Lake Tahoe, visit:
https://www.tahoereport.com/en/four-fantastic-free-sledding-hills-in-lake-tahoe/
https://www.tahoereport.com/en/adaptive-sports-lake-tahoe/
For a guide on Lake Tahoe's ski resorts and the activities offered at each resort, visit:
https://www.tahoereport.com/en/ski-resort-guide-lake-tahoe-california-nevada/